See you at the Expo!
March 2, 2016
Come on down to Two Rivers Convention Center March 4-6 and enjoy the Home Improvement & Remodeling Expo, western Colorado's largest home improvement and remodeling tradeshow. While you're there be sure to stop by booth #6 where Osburn Cabinets & Design will be displaying our latest offerings in custom designed cabinetry, brand name cabinets and architectural millwork. Whether you're looking for new cabinets for your kitchen, bathroom, library, home office or any other room in your home, you'll find what you're looking for at Osburn. Plus, when you stop by booth #6 you can register to win the beautiful quarter sawn white oak, mission style hutch shown below!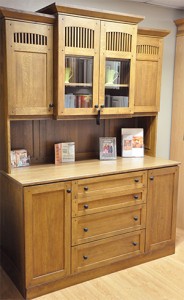 To get a first-hand look at the cabinets you want at a price you can afford, visit booth #6 at the Home Improvement & Remodeling Expo March 4-6 at Two Rivers Convention Center!
Tags: